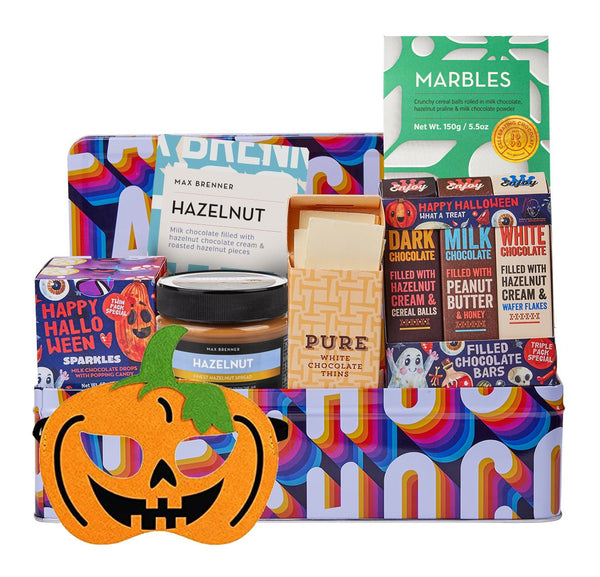 SPECIAL TRIPLE PACK FOR HALLOWEEN:
MILK FILLED CHOCOLATE BAR

Milk chocolate filled with peanut butter and honey |1.5oz /45g 
WHITE FILLED CHOCOLATE BAR 
White chocolate filled with hazelnut cream & wafer flakes  |1.5oz /45g 
DARK FILLED CHOCOLATE BAR 
Dark chocolate filled with hazelnut cream & cereal balls  |1.5oz /45g 
SPARKLES TWIN PACK SPECIAL -Milk chocolate drops with popping
candy | 4.23oz/120g
WHITE PURE-White chocolate thins 2.5oz/70g
FINEST HAZELNUT SPREAD-Hazelnut with cocoa 360g/12.8oz
MARBLES MILK CHOCOLATE-Crunchy cereal balls rolled in milk chocolate, hazelnut praline & milk chocolate powder  | 5.5oz/150g
Hazelnut Tablet
Milk chocolate filled with hazelnut and chocolate cream & roasted hazelnut pieces | 100g/3.5oz
HALLOWEEN MASK
ABOUT US
Max Brenner creates a unique, novel cultural experience of premium chocolate products and chocolate gift boxes. We converted chocolate from a sweet to an experience which touches upon every aspect of life. We derive pleasure from chocolate sweets manufactured from the finest quality chocolate and based on traditional,
SHIPPING
Orders that are received Monday-Thursday after 1PM EST will be processed as soon as possible. Orders that are received on the weekends will be processed and shipped on Monday.
For FedEX shipping methods go to: www.fedex.com
In-store Pickup from our Manhattan location:
841 Broadway, New York, NY 10003, United States
Please Note: Due to risk of melting, we strongly recommend that perishables going to warmer locations (Florida, Texas, California, etc.) be shipped via FedEx Express.
Also note, "estimated delivery" days may be approx. 1 day longer than shown.
How do I check the status of my order?
When your order has shipped, you will receive an email notification which will include a tracking number you can use to check its status. Please allow 48 hours for the tracking information to become available. 
If you haven't received your order within 5 days of receiving your shipping confirmation email, please contact us at sales@maxbrenner.com with your name and order number, and we will look into it for you. Please understand that due to the holiday season, FedEx is also experiencing shipping delays so orders may be delayed to that and any weather conditions as well.
In-store Pickup
You can pickup your order at our New York location:
841 Broadway, New York, NY 10003, United States.
After placing your order and selecting local pickup at checkout, your order will be prepared and ready for pickup within 1 business day. We will send you an email or SMS when your order is ready along with instructions. 

Our in-store pickup hours are 12 noon-10pm on Sunday-Saturday. Please have your order confirmation email or SMS with you when you come. 

Please note we do not ship to PO Boxes, if you put a PO Box on an order, we will contact you for a different address
Returns
In the event that your order arrives damaged in any way, please email us as soon as possible at sales@maxbrenner.com with your order number and a photo of the items condition. We address these on a case-by-case basis but we will try our best to work towards a satisfactory solution.

Substitution
There may be changes in the compositions of items and packages depending on inventory and validity.
A sold-out product will be replaced with an equivalent product in terms of the price and weight of the product. 
More Information
If you have any questions regarding our Shipping Policy, please contact us at:
Max Brenner
231 W 29TH ST, RM 1105
New York, NY 10001 
646-467-8813
Email: sales@maxbrenner.com

How We Make our chocolate